Maison Vice-provinciale :
Galdima – BP 753 MAROUA  – CAMEROUN
Tél : 6 99 80 01 72
Djabbama ! Bienvenue ! Welcome !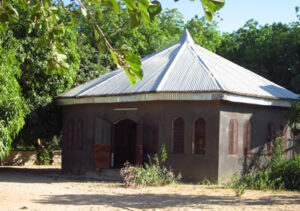 "We must pray always since we must always love, and love comes fromGod".RL 37.
"Daughters of the Holy Spirit, Daughters of Marie BALAVENNE and Renée BUREL 'in a House of Charity for a Mission of Love"
"The same Spirit who gathers us in Congregation is also the one who sends us, in the simplicity and boldness of the Gospel, to work with those who seek to build the world through justice and love". RL 10.2.
We are 31 sisters divided into 9 communities
-25 from Cameroon, 2 from Congo, 2 from France, 1 from Burkina Faso, 1 from Tchad-,
and 110 Associates. (as of 31 December 2022)
The nine communities are in 4 dioceses spread out in three regions:
Extreme-North region.
* Maroua-Mokolo diocese: Koza, Djarengol, Makabaye and       Galmina communities. 
* Yagoua diocese: Doukoula and Touloum communities.      North region.
* Garoua archdiocese: Garoua(OMI guest House) and Touroua       communities.
Région de l'Adamaoua
* Diocèse de Ngaoundéré : le Noviciat
"By his words and actions, Jesus revealed himself as the one who liberates and saves. Following Him, we play our part with others- children, young people and adults- in creating conditions which enable people to liberate themselves and to live more open and loving relationships". RL 10-3.
In the following of Jesus, in the footsteps of Marie Balavenne and Renée Burel, through our different missionary commitments, we hear the cry of the poor, the sick, the children and make it our own, recognizing in them the person of Jesus Christ. We also witness to "Jesus-Christ, beloved Son of the Father and brother of all, human face of the tender love of God".
1- In the education sector: we work for the integral formation of the children and young people and for the promotion of the young woman in diocesan schools and in the hostels for young women.
2- In healthcare sector: Jesus healed the sick… In the healthcare centres, together with the medical staff, we try to take care of the sick, to welcome them and to surround them with our love…
3- In pastoral work. We dare to say who God is for us through our life witness, the catechism and the accompaniment of various movements of Catholic action.
4- The liturgical vestment.